Fuzzys Fantasy Football are proud participants at

Hear us on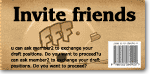 Our Fantasy Football Leagues offer:

Live Drafts (Snake & Auction Style)




Public & Private, Weekly and Playoff Leagues




10, 12 & 14 Team Leagues w/ LIVE SCORING




Fair & Fun Blind Bidding Free Agency




Free Mock Drafts

Fantasy Football 2020
2021 FANTASY BASEBALL LEAGUES!
Yes, we have fantasy baseball in 2021. League signups have begun!: Click here to access Fuzzys Fantasy Baseball

YAHOO, AOL, AIM, VERIZON EMAIL USERS - YAHOO IS BLOCKING MAIL AGAIN!
WE STRONGLY URGE IF YOU USE YAHOO, AOL, AIM or VERIZON and have a different provider to please switch to another email provider so you can stay informed! Yahoo blocks all mail including trade notices, password resets, slow draft notices when it is your turn and anything else that would be important for you to receive!

Up to date Player News, Projections, Injuries & Much More: Fantasy Football Factor

Providing our members with the largest variety of fantasy football league options for 16 years!!!
In future years, should FFF have an IR (Injured Reserve)?
---

Copyright fuzzysfantasyfootball.com
Designed by